Tuesday, August 20, 2019, 2-3 pm EST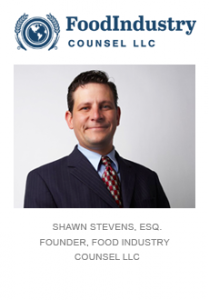 Supply Chain Risk: Where Does Your Liability Reside in the Food Supply Chain?
Responsibility is shared by everyone: wholesaler, packager, distributor and retailer.
What types of records and best practices should you require of your suppliers to protect your own company?
New regulations and testing requirements allow for more risk in the industry, learn how to mitigate this risk.
Food companies are facing increasing risks in the industry, including new FSMA preventive controls inspections and FDA swab-a-thons, due to an overwhelming amount of outbreaks and recalls. Manufacturers, food service distributors and retailers should attend to hear from Attorney Shawn Stevens from Food Industry Counsel, LLC about the expanding regulatory risks and exposure, and the tools you can use to protect your company and brand.
Shawn Stevens is the founder of the Food Industry Counsel and has devoted his entire practice to representing the food industry.