Shoppers Won't Tolerate Out-of-Stocks, so Why Should You?
Out-of-stocks (OOS) continue to be the one of the most persistent and financially damaging issues for the retail supply chain accounting for billions of dollars in lost sales annually and driving customers to the competition.
So, Why are Out-of-Stocks Continuing to Increase?
The direct-store-delivery (DSD) route to market is expanding. As retailers stock more items from local and regional suppliers, SKU proliferation plus increased DSD vendors equals increased OOS.
Home delivery service expansion has transformed stores into fulfillment centers. With little visibility to the DSD inventories in these stores, out-of-stocks and substitutions are increasing, damaging customer satisfaction.
Competition from every other online site, especially Amazon are only a click away feeding the increasingly fragile nature of shopper loyalty, especially for the retailer.
At ReposiTrak, we solve the chronic issue of out-of-stocks by creating visibility, control and accuracy for DSD ordering and inventory management at three levels.  ReposiTrak will show you how to be successful at each level.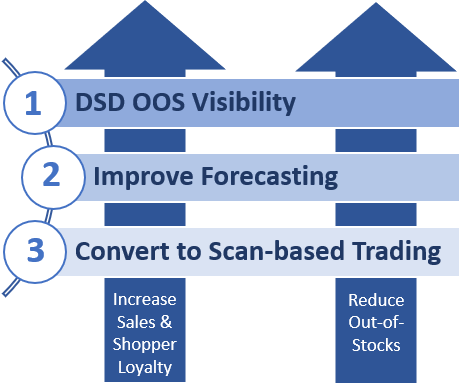 Visibility is the Key to Winning at Out-of-Stocks
Greater visibility to their store inventory performance gives vendors the ability to manage it better. Both the retailer and the vendor gain enhanced visibility right down to the store, SKU, route-level by receiving actionable reporting …whatever is needed to solve the problem. And our analysts will work with the vendors to figure out what changes to make –not you.
Forecasting still an issue? Some vendors still need help with ordering. Our automated forecasting and ordering solutions generate more accurate forecasts based on consumer demand patterns, store-level point-of-sale (POS) and other critical data.
Convert to Scan-based Trading (SBT). Retailers will gain additional working capital, Vendors gain even more control over delivery times and shelf stocking, and both retailer and vendor make the invoice reconciliation issues disappear.
You'll Know the Size of the Prize and the Progress Toward Achieving Your Goals
Biggest dollar opportunities are where you'll gain the biggest bang. We'll always point to the largest dollar opportunity and help the vendors figure out what changes they can make to improve. Perhaps it's only a change in delivery schedule, or maybe it's more radical.  We'll help them figure it out.
Detailed reporting not only points to key SKUs, routes or stores needing attention, a quick reference guide is always included – just in case.
We work with the vendor to make the changes, so the retailer doesn't have to.
If you're an SBT customer, it's included!