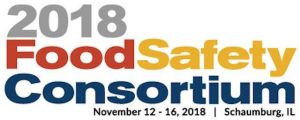 Salt Lake City, November 7, 2018 – ReposiTrak, Inc., the industry leader in compliance, food safety and risk management for the retail supply chain, will be exhibiting at the Food Safety Consortium at the Renaissance Schaumburg in Schaumburg, IL November 11-13, 2018. The ReposiTrak booth (#216) will be staffed by industry experts available to discuss food safety and how automating compliance management helps companies better manage risks in the extended supply chain.
The Food Safety Consortium is a solutions-based conference and expo that attracts the most influential industry professionals in food safety. It enables attendees to engage in conversations that are critical for advancing careers and organizations alike. Attendees can visit with exhibitors to learn about innovative solutions, explore five diverse educational tracks to learn valuable industry trends and network with industry executives to find solutions that improve quality, efficiency and cost effectiveness in the ever-changing global food safety market.
"As the landscape of food safety and compliance evolves, we are seeing an increase in companies looking to automate and scale their compliance management as a way to lower their risk," said Randy Fields, CEO of ReposiTrak. "Conferences like the Food Safety Consortium enable us to meet with current and prospective clients, answer questions and provide valuable information and demonstrations that will help them make good decisions."
The ReposiTrak Speed Retail Platform drives growth and supports all supply and demand chain activities for retailers, manufacturers, and their trading partners, consisting of three product families; Compliance & Risk Management, Supply Chain Solutions, and MarketPlace Sourcing and B2B Commerce. Delivered via one technology platform, all the applications are mutually reinforcing and work synergistically to create value and positive impact across the entire enterprise.
About Park City Group and ReposiTrak®
Park City Group (NASDAQ: PCYG) is a Software-as-a-Service ("SaaS") provider that brings visibility to the consumer goods supply chain through its ReposiTrak, Inc. subsidiary. ReposiTrak is The Speed Retail Platform, with three product families; Compliance & Risk Management, Supply Chain Solutions, and MarketPlace Sourcing and B2B Commerce. The platform provides retailers and suppliers with a robust solution suite to help enhance operational control and increase sales, while enabling them to protect their brands, reduce risk and remain in compliance with regulatory requirements. More information is available at www.parkcitygroup.com and at www.repositrak.com.