The Panel Discussion Will Be on October 25, 2018 in Atlanta, GA.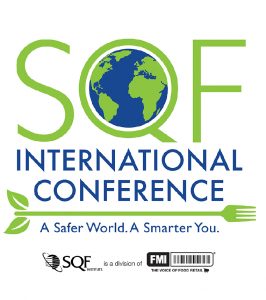 ReposiTrak, Inc., the industry leader in compliance, food safety and risk management for the retail supply chain, is joining Frieda's Specialty Produce and Lund Food Holdings for an educational session at the SQF International Conference in Atlanta, GA on Thursday, October 25, 2018. The presentation will focus on the past, current and future of technology to support food safety initiatives like compliance, supply chain collaboration and transparency.
The panel for the session includes Jackie Caplan Wiggins, VP and COO at Frieda's Specialty Produce, and Chris Gindorff, Senior Manager Q&A Food Safety at Lund Food Holdings, who will join Derek Hannum, SVP of Customer Success at ReposiTrak. They will be discussing how technology helps increase compliance levels, allows for better information sharing between retailers and suppliers and provides real-time access to necessary documentation.
"Chris comes from a retailer's outlook and Jackie brings a supplier's perspective to the discussion, so we'll have both trading partners represented in telling the audience about the importance of technology in food safety compliance," Hannum said. "This in-depth discussion allows the SQF conference attendees to hear from both sides of the equation."
"The time spent looking for a compliance document in a file cabinet could be better spent growing our business," Caplan Wiggins said. "Demands from our clients vary widely. Each client requires different documentation, so it is a never-ending process that needs to be automated to get ahead."
"There is not enough discussion on the business perspective on the issue of food safety," Gindorff said. "There are potential major ramifications for not being compliant and the management of all those documents can become unwieldy without a technology solution to solve for it."
The SQF International Conference is a unique education and networking event providing SQF stakeholders and food safety professionals with practical knowledge and skills to improve the efficacy of their food safety and quality assurance programs and ensure compliance with government food safety regulations, corporate policies and the SQF Code.
"The conference attendees will have a unique opportunity to hear first-hand from their colleagues who know the importance of a diligent compliance, food safety and quality program," said Robert Garfield, Chief Food Safety Assessment Officer & SVP at FMI. "In addition to this panel of speakers and other presentations, attendees will have the opportunity to network with other food safety professionals as the entire event is designed with professional development needs of SQF Stakeholders in mind and takes an applied, not academic, approach to food safety and quality education."
About Park City Group and ReposiTrak®
Park City Group (NASDAQ: PCYG) is a Software-as-a-Service ("SaaS") provider that brings visibility to the consumer goods supply chain through its ReposiTrak, Inc. subsidiary. ReposiTrak is The Speed Retail Platform, with three product families; Compliance & Risk Management, Supply Chain Solutions, and MarketPlace Sourcing and B2B Commerce. The platform provides retailers and suppliers with a robust solution suite to help enhance operational control and increase sales, while enabling them to protect their brands, reduce risk and remain in compliance with regulatory requirements. More information is available at www.parkcitygroup.com and at www.repositrak.com.
About FMI SQF
The Safe Quality Food (SQF) program is recognized by retailers and foodservice providers around the world as a rigorous, credible food safety management system. It is the only certification system recognized by the Global Food Safety Initiative (GFSI) that offers certificates for primary production, food manufacturing, food packaging, distribution and retail/wholesale grocers. This enables suppliers to assure their customers that food has been produced, processed, prepared and handled according to the highest possible standards, at all levels of the supply chain. Additionally, as a division of the Food Marketing Institute (FMI), the SQF program incorporates continual retailer feedback about consumer concerns. This information is passed on to SQF certified suppliers, keeping them a step ahead of their competitors.