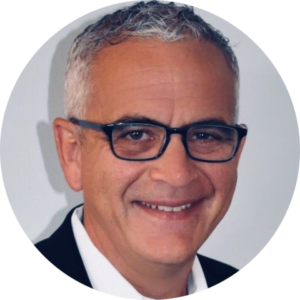 Contributed by ReposiTrak Chief Customer Officer Derek Hannum
How can tracking a food product's journey through the supply chain help you to manage food waste? The answer is hidden in plain sight. ReposiTrak's time-tested technology brings new insights from one key data point that stretches beyond the FDA's FSMA 204 requirements.
Let's start at the end.
Much of the focus in the food supply chain industry is on the safe and cost-effective creation and movement of products through to the point of sale. There's a spirit of continual improvement and technological advancement from farming and manufacturing to packaging and distribution.
When we shift the focus to the end of the food supply chain, though, and look deeper into what happens when a product is deemed unusable or unsellable, it reveals a tremendous opportunity for growth – one that you may not have considered.
The end usually looks like this:
A supermarket clerk makes her daily rounds checking Expiration or Sell-By dates; scanning out past-dated items as shrink and tossing them in a waste can
A line cook at a restaurant is prepping for the day and scoops carrot peels into the trash along with his plastic gloves as he moves on to prepping meat
A shipment of lettuce in a high school cafeteria has been identified as part of a recall and is moved to a dumpster
Out of Sight, Out of Mind
Known and unknown loss – including food waste – is considered a cost of doing business. It's budgeted and measured, but that doesn't necessarily mean it's controlled. There's a key piece of data that's often missing from our analyses and it's hidden in plain sight.
Expiration or Sell-By dates are invaluable to the food supply chain industry. This ubiquitous bit of information, printed on each part and parcel, is used to manage food quality and safety at every level in the industry and in homes alike.
It's not that Expiration or Sell-By dates are overlooked – far from it. What's emerging, though, is the value in capturing that information electronically. By including Expiration or Sell-By dates in the data you track as part of your food traceability process, you'll be able to create new insights and have more control over waste.
Take a look at our top 5 list of ways you can use Expiration or Sell-By date information to reduce food waste.
Top 5 Ways ReposiTrak Uses Expiration or Sell-By dates to Reduce Food Waste
Pinpoint perishable inventory that's about to go out-of-date and strategically schedule markdowns
Identify the shelf-stable items that need rotated before scheduling the labor to do so
Feed the hungry in your community by scheduling more timely contributions to a local food bank
Create a relationship with a local composter, helping to reduce your company's carbon footprint
View trends in expiration rates from your vendors and use that information to make purchasing decisions and improve allocation in your store
Food Waste and Corporate Social Responsibility
By shifting your focus to the end of your food supply chain and getting control of waste in your system, you are demonstrating your company's commitment to sustainability. And, you'll be able to actively track and report on progress.
The study Food Waste in America in 2022 by RTS estimates that 40% of food waste comes from grocery stores, restaurants and food service companies. Beyond the food itself, what also goes to waste are the time and resources used to produce and transport that food; not to mention the labor of the supermarket clerks, line cooks, food service workers and others who handle it.
At the global scale, food waste generates as much greenhouse gas emissions as 37 million cars. If we work together as an industry to better manage even a small percentage of food waste, it will make a major impact.
What's more? Consumers today want transparency. Studies have shown that consumers will pay more for products that they believe are made with sustainability in mind.
ReposiTrak Traceability Manager is built to handle the breadth of food traceability compliance data required by the FDA – along with Expiration or Sell-By dates – enabling you to unlock a wealth of information for compliance and inventory management, as well as sustainability initiatives.
ReposiTrak: a Supply Chain Solution for Traceability
The FDA is mandating food traceability for thousands of items by November 2022 through its update of FSMA 204. Soon, you'll be required to capture key data elements for critical shipping and receiving events in your food supply chain.
By tracking Expiration or Sell-By dates along with traceability data, ReposiTrak provides suppliers, retailers, wholesalers/distributors, restaurants and food service operators alike with the visibility and control that comes with knowing what inventory is aging.
For more than 20 years, ReposiTrak has been a trusted partner in the food supply chain industry, making information digestible and actionable. Our cloud-based suite of solutions helps retailers, suppliers, and wholesalers alike to reduce risk and remain in compliance with regulatory requirements; enhance operational controls; and increase sales with unrivaled brand protection. We've got connections to more than 110,000 facilities around the world, and the technology that connects them all.
Our supply chain management capabilities combined with complete, end-to-end food traceability provides the solid foundation for reducing waste at the end of the food product's lifecycle.