Top Salad and Prepared Foods Manufacturer Selects Industry Leading Solution to Eliminate Paperwork and Headache Associated with Manually Managing Its Supplier Approval Program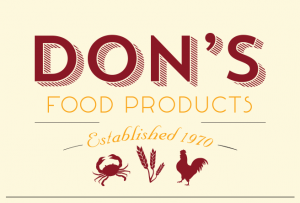 Salt Lake City | June 13, 2018 –ReposiTrak, Inc., the industry leader in compliance, food safety and risk management for the retail supply chain, announces Don's Food Products is deploying the ReposiTrak Compliance Management Solution to automate and streamline its supplier approval process, eliminating tedious spreadsheets and time-consuming paperwork. Don's Food Products is a Safe Quality Food Institute (SQFI) certified supplier that is now using ReposiTrak to completely automate compliance documentation at corporate, facility and item levels.
Don's Food Products is one of the top selling salad and prepared foods manufacturers on the East coast and continues to expand its innovative product lines with an emphasis on high quality and food safety. Based in Pennsylvania, Don's Food Products are found in gourmet food stores, supermarkets, restaurants, delis, hospitals, schools and military installations.
"We were using manual spreadsheets and email to reach out to suppliers, so we needed a solution to make the entire process easier and allow us to go back to focusing on our business. ReposiTrak is widely known for its industry leading solutions, which combined with their solid partnership with SQFI, presented them as the clear choice for our own compliance management needs," said Renata Signs, Quality Assurance Manager and SQF Practitioner for Don's Food Products. "As a proud SQFI-certified supplier, food safety compliance is a top priority for us to protect our brand and more importantly protect our consumers."
The Compliance & Risk Management suite includes the food safety and compliance solutions that have become a respected and trusted cornerstone of the ReposiTrak brand. With more than 250,000 connection points in the supply chain and endorsements of leading trade groups such as FMI, ROFDA and GMDC, ReposiTrak is the clear industry standard for food safety and compliance management.
"We're proud to help Don's Food Products optimize their supplier approval program," said Randy Fields, Chairman and CEO of ReposiTrak. "Our pioneering technology was designed with a strong focus on keeping consumers safe through better food safety and compliance technologies, while providing businesses with a way to better run their supply chains. Our expanded Speed Retail Platform delivers a holistic suite of solutions that optimize and protect at every point in the supply chain, and help companies thrive in today's super competitive retail environment."
The ReposiTrak Speed Retail Platform drives growth and supports all supply and demand chain activities for retailers and their trading partners, consisting of three product families; Compliance & Risk Management, Supply Chain Solutions, and MarketPlace Sourcing and B2B Commerce. Delivered via one technology platform, all the applications are mutually reinforcing and work synergistically to create value and positive impact across the entire enterprise.
About ReposiTrak®
ReposiTrak, Inc. is a wholly-owned subsidiary of Park City Group (NASDAQ:PCYG) and was co-founded with Leavitt Partners. ReposiTrak® provides food retailers and suppliers with a robust solution to help them protect their brands and remain in compliance with regulatory requirements. Additionally, ReposiTrak enables traceability as products and their ingredients move between trading partners and now helps customers source new compliant suppliers and drive sales through MarketPlace. More information is available at www.repositrak.com.
About Park City Group
Park City Group (PCYG) is a Software-as-a-Service ("SaaS") provider that brings unique visibility to the consumer goods supply chain, delivering actionable information to ensure products are available when and where consumers demand them, helping retailers and suppliers to 'Sell More, Stock Less, and See Everything'. Park City Group's technology also assists all participants in the food and drug supply chains to comply with food and drug safety regulations through the Company's ReposiTrak subsidiary. More information is available at www.parkcitygroup.com.